315 Douglas Avenue East Regina, Saskatchewan S4N 1H7 Phone 306-757-1325

NEW PARISHIONER AT HOLY CROSS?
Are you a new parishioner at Holy Cross, or would you like to become one? If so you are invited to contact our Pastoral Assistant, Martin Kondzielewski, at the Parish office to register. The Parish office hours are 9 am to 12 noon, Monday to Friday.
You can also call 306-347-0929.
We would love to hear from you!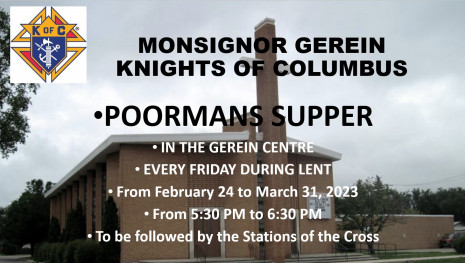 Archbishop's Appeal Campaign
Dear Friends in Christ,
Part of our Christian calling is to be a people of hope. The first letter of Peter encourages us to be ready to give the reason for the hope that is in us.
In difficult times, it is our faith that encourages us to persevere, to keep showing up, and keep giving of ourselves. "For nothing will be impossible with God."
Even in the most challenging times, ours is a hope that is "rooted and grounded in love", a hope that multiplies when we share with and care for one another, a hope that, in St. Paul's words, strives to communicate the breadth and length and height and depth of God's love for us made known in Jesus Christ (Eph. 3:16-19).
Thankfully, the Lord doesn't ask us to do it alone. Rather, He invites us to do our part, to put ourselves at the service of God's work, within our families and circle of friends, within our parishes and in our outreach beyond them.
Thank you to all of you who, in one way or another, have responded and are responding to God's call to be steadfast in hope. The Archbishop's Appeal is a tangible way in which you can foster hope, both in our parishes and in the community around us.
Yours in Christ,
Archbishop Don Bolen, Archdiocese of Regina
To read further on this year's campaign and its goals, please click here.

CCCB Pastoral Letter to Young People
Today, the Most Rev. Raymond Poisson, President of the Canadian Conference of Catholic Bishops (CCCB), has issued a Pastoral Letter to Young People. The Letter is dated 12 October 2022 in honour of the anniversary of the death of Blessed Carlo Acutis, the first beatified millennial. This Pastoral Letter is meant to inspire young Catholics to live their faith in an extraordinary way, encouraging them to strive toward holiness, and assuring them of the steadfast support and accompaniment of their Bishops along their individual journeys of faith.
This Pastoral Letter responds to the CCCB's virtual conversations with over 200 young people from across Canada, between the ages 12 to 25, held in the fall of 2020. The Pastoral Letter was drafted by the Office for Evangelization and Catechesis and the Office for Family and Life, at the request of the Executive Committee. It received input from youth ministry specialists, the Episcopal Commission for Evangelization and Catechesis, the Episcopal Commission for Doctrine, and the Standing Committee for Family and Life. The Permanent Council approved the Pastoral Letter at its June 2022 meeting.
The Letter is addressed to young Catholics. It can be used for individual reflection, as well as in group settings, such as parish or diocesan/eparchial youth groups, schools, families, ecclesial movements and associations, and faith-based communities. The Pastoral Letter may also serve as a tool and resource for pastoral coordinators, youth group leaders, teachers, and anyone who accompanies young people in the faith.
For more information, contact ofl@cccb.ca.
Copies of the letter are found on the Activity table in the Gerein Centre or can be down-loaded HERE