315 Douglas Avenue East Regina, Saskatchewan S4N 1H7 Phone 306-757-1325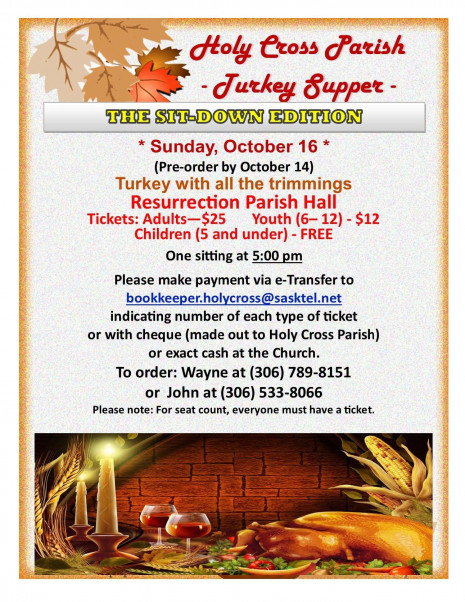 Mass Schedule
| | |
| --- | --- |
| Thu | 9:00am |
| Fri | 9:00am |
| Sat | 5:00pm |
| Sun | 9:30am |
| Mon | No Mass |
| Tue | 7:00pm |
| Wed | 9:00am |
All Services
Update on Visiting Priests
Fr. Augustine will be leaving Regina Oct. 13. His last Masses were Oct. 1-2.
Click here to read about Fr Augustine's vocation story and his Mission Appeal Message for support to postsecondary students in Nigeria.
Fr. Sami will be saying weekend Masses Oct. 8, 9, 15, 16 and 23.
Fr. Ricardo will say Mass Oct. 22, and possibly the weekday Masses through October.
Then, we will see for November. Holy Cross is very appreciative of the interim Priests we have had the pleasure to have with us! Let us Pray that Holy Cross will soon be able to receive a permanent Priest.

For Fr. Ricardo's bio and vocation story, click here.
For his document on "Why to Return to Mass", click here.
A second set of posting clergy announcements has been made. Click here.
Catholic TRC Healing Response Appeal
On July 13, 2021, the Bishops of Saskatchewan announced a new province-wide Appeal for Support of Healing and Reconciliation – sponsored by our dioceses and eparchy here in Saskatchewan. The overall goal of this campaign is to support Indian Residential School survivors and their communities, and to engage more deeply in our own ongoing commitment and response to the Truth and Reconciliation process.
APPEAL GOAL: To support Indian Residential School survivors and their communities, and to engage more deeply in our own ongoing commitment and response to the Truth and Reconciliation process.
FUNDING PRIORITIES: Healing and Reconciliation, Cemeteries on the sites of former residential schools, Education and Cultural Support
Funds will be allocated to national and local initiatives responding to the Truth and Reconciliation Commission's Calls to Action involving a financial commitment, as guided by Indigenous communities here in Saskatchewan (cf. Calls to Action #61, #73-76; #82).
WORKING WITH INDIGENOUS PARTNERS: We are collaborating with potential participants, and consulting with Indigenous dialogue partners, including Survivors, Elders, Knowledge Keepers, Chiefs, and other community members. Out of these conversations, each diocese and eparchy will discern and communicate separately how they will proceed with the Appeal in their respective dioceses and communities.
FINANCIAL GOAL & TIMELINE: We look forward to announcing our province-wide goal and timeline by September 2021.
Make your gift online by clicking the "Donate Now" here. Gifts of cheques may be made out to "Archdiocese of Regina" with "TRC Response" in the memo (address listed below). If you wish to give your gift by pre-authorized debit, please contact your local diocese.
Archdiocese of Regina
445 N Broad St, Regina, SK S4R 2X8
Statement of Apology by the Catholic Bishops of Canada
Parish Bulletin
Sep 29, 2022
Twenty Seventh Sunday OT C
Sacramental Classes for Reconciliation, Confirmation and First Eucharist
At this time we do not have a full-time pastor. Please direct your inquiries to Martin concerning Sacramental classes for Baptism, First Reconciliation, Confirmation and First Eucharist. He can be reached at pastoral.assistant@holycrossregina.ca or by phone at 306-347-0929.
---
Hospital Chaplains
When a family member or friend is going into or has gone into a hospital, please call the parish office and inform us :
306-757-1325
Catholic chaplains visit patients & their families to address any spiritual needs, to pray, to provide a friendly face & comforting presence, to talk about people's fears & concerns, to bring Communion, & to contact a priest for anointing of the sick.
Pasqua Hospital, 306-519-1380

Wascana Rehabilitation Centre, 306-530-6511

General Hospital, 306-519-1405
Celebration of the Mass at Holy Cross
Holy Cross has revisited procedures and polices for worship. The guidelines listed here may be amended or added to at any time and as public health conditions change. The Dispensation from Mass has been lifted. The faithful are asked to attend Mass on Sundays and holy days of obligation. Although the public dispensation from Mass has not been in effect since August 2021, the sick and medically vulnerable have always been dispensed from the obligation to attend Sunday Mass. If you are ill, elderly or medically vulnerable in any way, you are urged to continue to take every precaution to keep yourself and others safe.
Masses
We continue to sanitize the church proper, and to make things easier, we ask those attending weekday Masses to continue to mark their places with a sticky tag.
Masking
As of March 1, 2022 indoor masking is optional in the province of Saskatchewan. Individuals who proclaim will continue to have separate microphones unless they come from the same household.
Gatherings
We will continue to use the Gerein Centre entrance as the primary entrance to the church. ON weekends the Douglas Avenue doors will also be opened - please sanitize your hands when you come in. Although physical distancing will no longer be required, we strongly suggest to continue distancing practices. We encourage families to sit together and keep some space from others if this makes you comfortable. We are keeping some of the back pews roped and spaced as before for those who would like that physical distance.
Hand Hygiene
We are maintaining hand sanitizing practices that were implemented during the Covid-19 pandemic. We continue to provide hand sanitizers, tissues, and waste receptacles. Please feel free to continue to bring and use your own hand sanitizer.
Holy Water Fonts
Holy water will not be used until further notice.
Sign of Peace
Physical touching (shaking hands, hugging, etc.) is discouraged. The Sign of Peace may be expressed with a bow or similar ritual gesture.
Singing and Hymnals
The hymnals have been placed back in the pews and the congregation is allowed to sing. Individuals who may not be comfortable singing in a public gathering are encouraged to continue to wear a mask.
Communion
The priest will continue to distribute communion as the sole minister. Recipients will continue to be required to use hand sanitizer before they receive. Reception in the hand is to be the norm. Father is comfortable with Communion on the tongue for those who would prefer. Individuals with cold or flu symptoms are asked to stay home until well. Reception of the Blood of Christ will not resume at this time.
Bulletins
Bulletins are being handed out again. Please take one on your way out. They are also available on this web page.
Collection Baskets
Collection baskets will remain at the front of the church.
Children's Liturgy
Children's liturgy is still on hold.
Ministry Volunteers
Contact with ministers continues.
Visit our Facebook Page!
Electronic Pre-Authorized Donation Form
The option of Pre-Authorized Deposit (PAD) available for your financial gifts to Holy Cross is available. You determine the amount and where it goes, and free to change or cancel at any time.
---
Holy Cross website updated
October 5, 2022